floral headband - Primark, necklace - DIY, shirt - DIY, shorts - Urban Outfitters, socks - Primark, boots - Doc Martens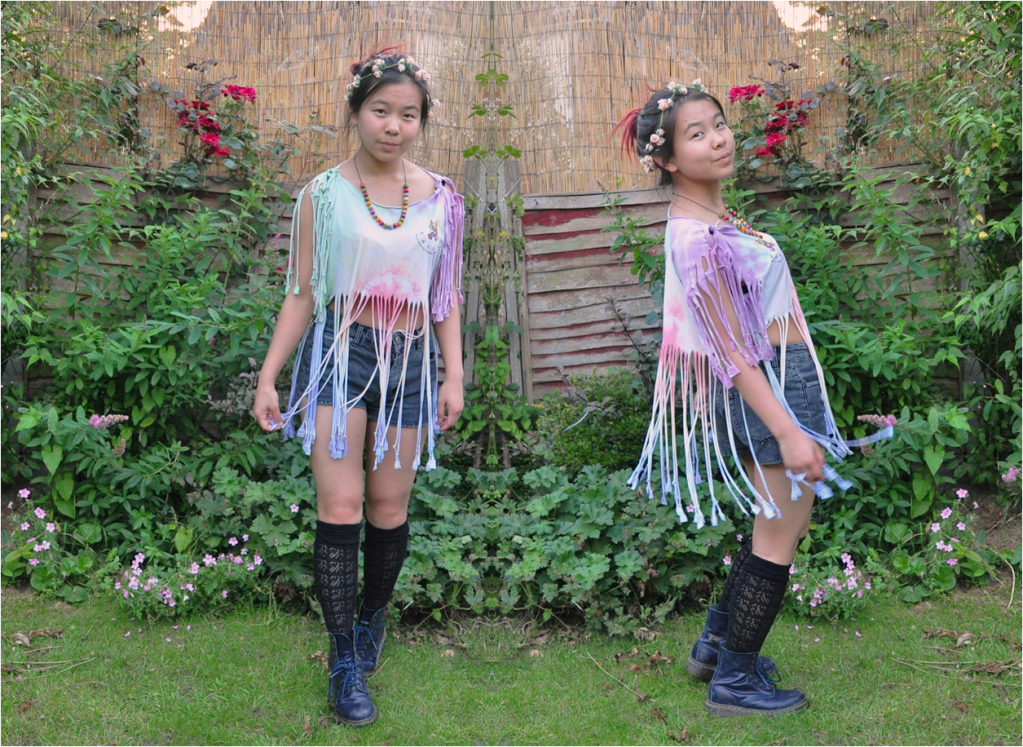 Yes, that is right, I made that crazy shirt. Yesterday I had a huge tie dye/hippy party with my friends (more detailed post about this coming tomorrow) and I decided to tie dye almost all the white things in my wardrobe, so look out for more tie-dye stuff in the future!
I made the fatal mistake of not using warm water, so most of the items have come up pastel coloured, but I don't particularly mind that. Then I went a bit scissor happy and decided to shred it up with plenty of fringing, creating this top as a result. It does sort of fit the hippy theme to my party with the tie dye, but it is more something that I would imagine you would wear to a festival. I probably did this subconsciously because I am not going to any festivals this year. :(
And yes, I know what you are thinking:
"Rebecca, you are an utter failure! Only two days into BEDIS and you have already managed to miss out a day!"
I really dislike making a promise and not sticking to it, but I have been seriously busy these two days with the tie dye party and other such shenanigans. I wasn't even in the right frame of mind for today's post, but I felt like I couldn't let you guys down. I have filmed a video to accompany this post, as well as snippets of my tie dye party and me cutting this top, but I have not had time to edit them. I also took these pictures when it was super late, hence the awful lighting, but I felt like I had to put something up!
See you tomorrow (fo'shizzle) and PEACE!
Rebecca x
P.S. Does anyone actually still read my garble below my pictures? Am I writing too much in my posts? Please inform me of your opinion in the comments below!