Shirt - DIY, barbed wire necklace - Topshop, green denim shirt - Camden, trousers - local shop, shoes - Doc Martens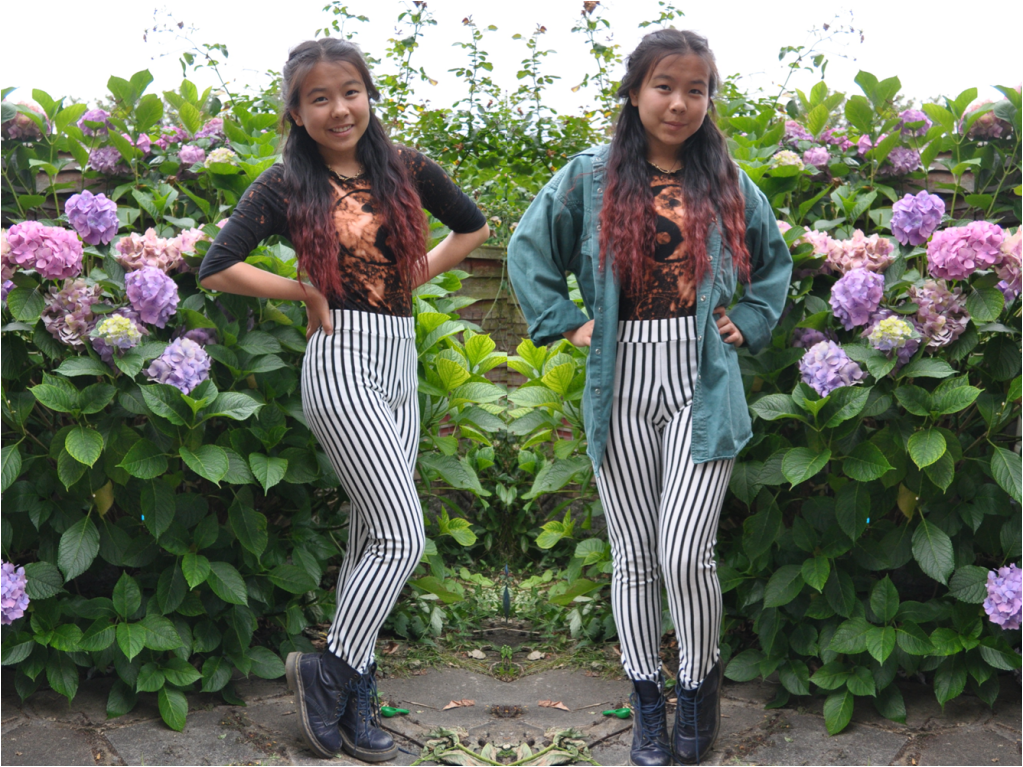 This is really awkward as I've just realised that I've got my hands on my hips in all my poses and I've used the same photograph twice by accident... I cannot be bothered to take the photos again or re-edit them, so you'll just have to excuse the terrible photos. I think this outfit would've looked awesome if I had a camouflage jacket to go with it, but since I don't, my green denim shirt which you guys are probably getting very fed up with will have to do!
I made this t shirt myself and I'm super happy with how it turned out! I will definitely be bleaching more items as there are so many possibility that you could have with this technique. One thing I forgot was that the t-shirt would stretch over my boob area, so the yin-yang sign is a bit lopsided, but it's only a minor problem. Would you guys be interested in buying t-shirts like this if I were to sell them on an on-line store (they would only cost £7.00 ish + P&P!!).
If you want to know how I made this t-shirt myself, click below to watch my tutorial. A huge thanks to MP for doing the bleaching with me and helping me film! (Please excuse the fact that the thumbnail for the video is my arse...XD)
Anyway, on the brighter side of life, I got my GCSE results yesterday! I got 11A*s, 1 A, A in AS Chinese and A in additional maths. Wooop! My dad has said that he's going to buy me a new laptop as a reward for my awesome grades, so that will mean that I will be able to edit videos which are over 5 minutes long without take a week.
You guys are awesome for still reading my blog even though I am a terrible blogger when it comes to consistency. All I know is that I am consistently inconsistent! That is mainly because I have run out of clothes to blog about, thus I will be posting more outfit posts when I acquire new clothes.
Ciao dahlings,