Beanie - sister's, t-shirt - Hot Chip x Stussy, leather look leggings - ASOS, platform loafers - Office, denim shirt - vintage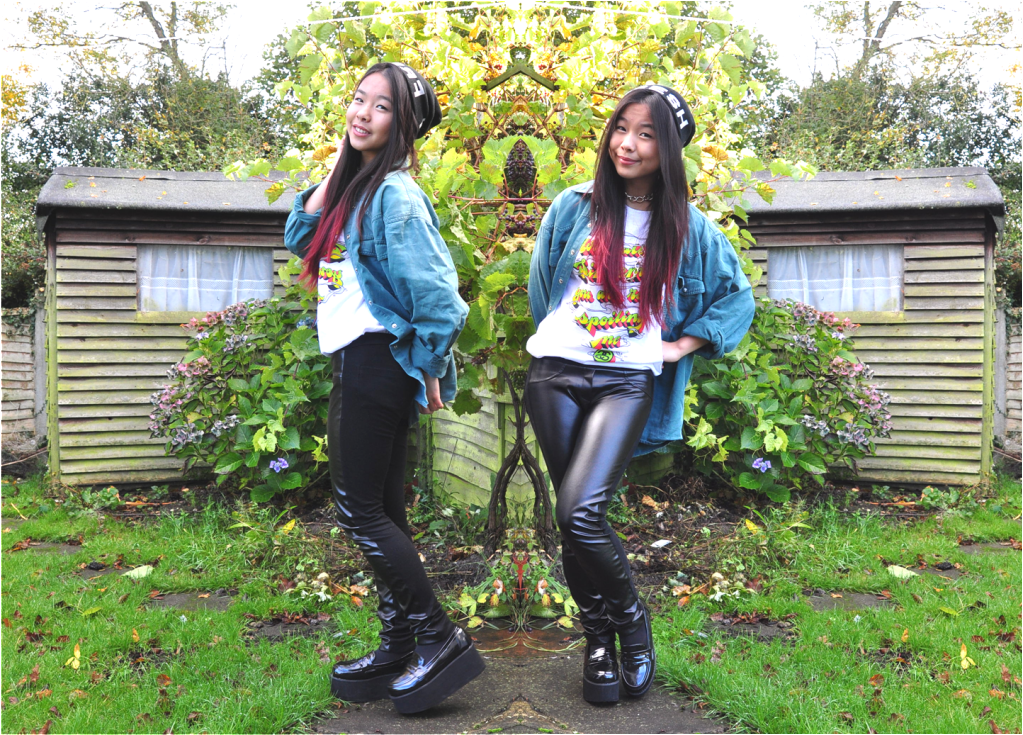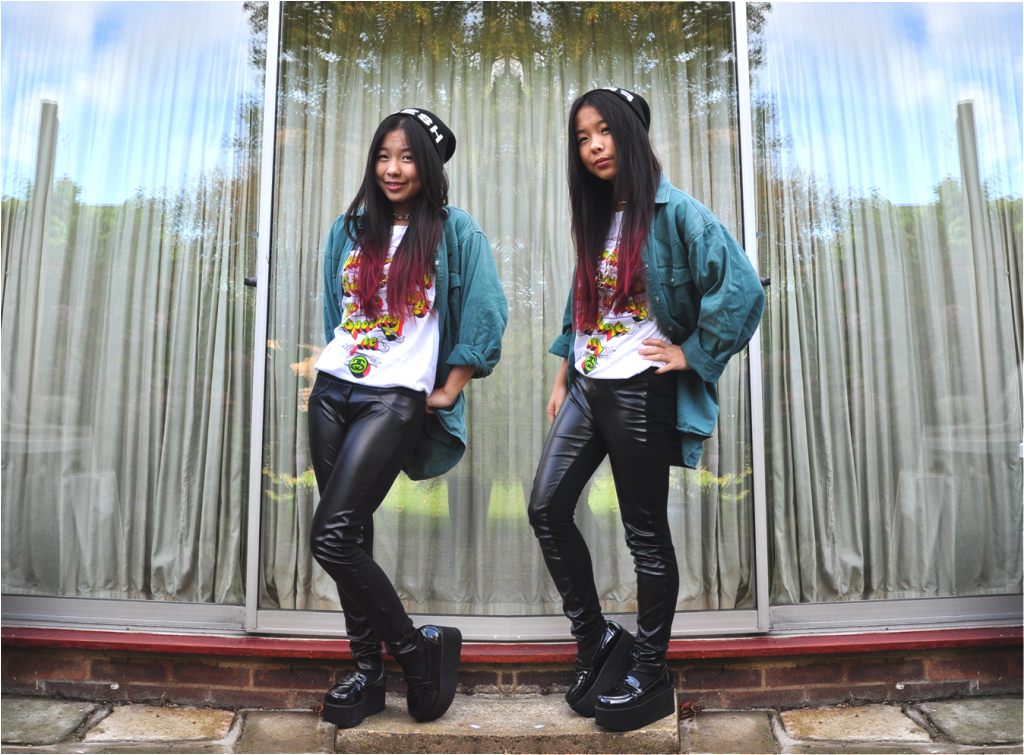 I'm actually so happy how these pictures have turned out, especially the first one. I like how I managed to get a reflection off my glass slidey door. There is also so much PVC in this outfit, I love it.
Firstly, I would like to talk about my amazing platform loafers that I got off the ASOS sale for a bargainous £15.00 plus £3.50 shipping. I first saw them on one of my favourite blogs "
Bell's Fashion
" who is such a lovely girl and has amazing style, plus also happens to be one of the first followers of my blog. When I saw that there was stock in my shoe size, I snapped them up immediately as she styles them so well. I got a European size 36, which is slightly to large since they feel like a size 3.5, when I am definitely size 3, but that was easily solved by putting in a pair of insoles. I completely agree with Helena when I say it feels like I am walking on air and I am definitely going to find it hard not wear them with every outfit since they just look so awesome. They also give me some much needed height which is also a bonus.
Secondly, I am sporting this awesome t-shirt which I won off an online competition. The task was to find out what song from Hot Chip's album "In Our Heads" was the lyric printed on the shirt was from, so I took on the challenge, listened to the entire album (which I may add is brilliant) and found out that it was from the song "Let Me Be Him", which also happened to be my favourite song from the album. I don't know why, but for some reason, I think that the song really sounds similar to "The Fear", by Lily Allen with it's production. I just love this t shirt so much as it's a Hot Chip t-shirt and I love them. I got a medium which I thought would be slightly over-sized, but it is actually ridiculously humongous, but I think I can make it work.
I am going to leave you with something Alexis Taylor said in an interview with Pitchfork about his lyrics in this album which I found quite interesting as I am often very intrigued with the creative process that goes into writing an aural masterpiece:
"Actually, with this album, I felt a freedom to use words without them having to have a logical meaning at all. That was partly inspired by listening to Joe's demo of the track 'Let Me Be Him' and really liking the sound of all the words, and wondering what the song was about. I asked Joe, and he said it was more like a phonetic thing, and then making out what those words were after. That made sense to me."
Ciao Dahlings,
Follow me on GFC/
Bloglovin'
/
Twitter
P.S. I've been so stupid for so long - I didn't realise you could turn off word verification so I would just to apologise to everyone who has had to endure filling in those ridiculous word verification words! You guys can now comment all you want now with the distress of having to deciphier cryptic codes.