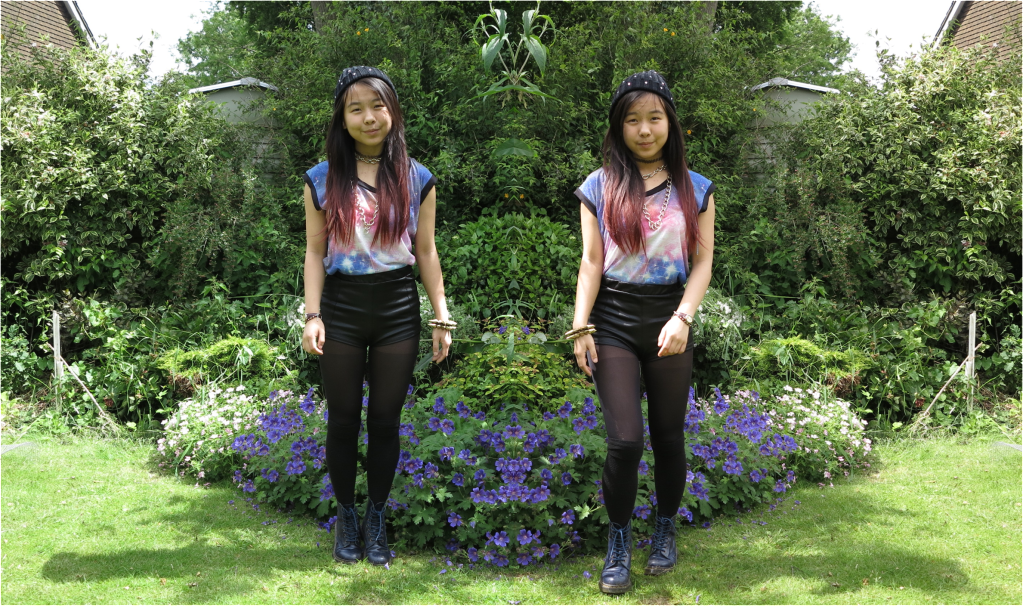 Sparkly beanie - Krisp, cosmic top and shorts- Hype, socks and tights - Primark, boots - Doc Martens
I have no idea why there is a pixel gap in this photography - it wasn't there when I was editing!
I took half of these pictures with this top untucked but I have decided that I prefer it tucked in. Yup - it's another galaxy/nebula/cosmic print top. This time it's sparkly - yay. I decided to match it with a beanie with lots of rhinestone gems on it. Some may say it's tacky and completely weather inappropriate considering its suppose to be the middle of summer, but I like it and I thought it went well with the outfit. Also, my hair was a complete mess and it's a good way of hiding that fact.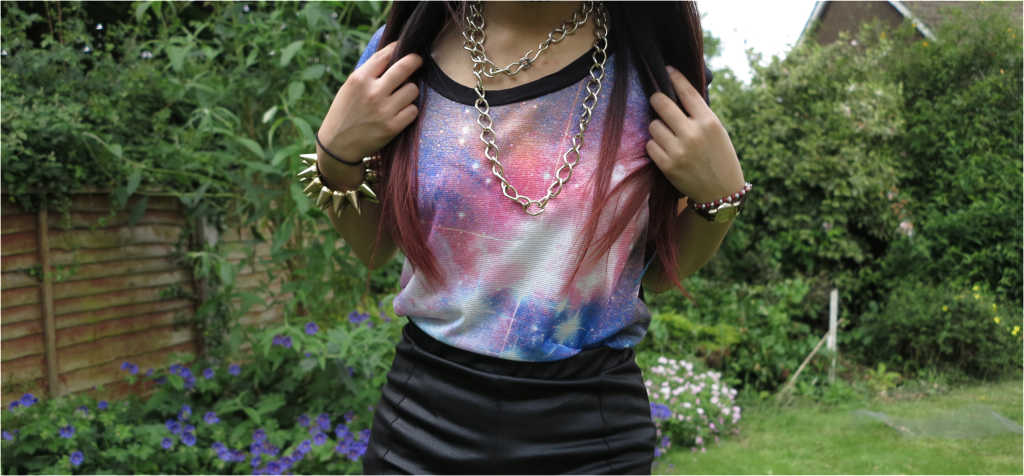 Here is a close up of the jewellery. I'm wearing my silver chain from
this haul
, as well as a gold spiky bracelet from Topshop.
And here is another close of some other jewellery you may not have noticed. On the right is my trusty Winnie the Pooh catch and this hamsa hand bracelet I found lying round the house! On the left is the hair wrap I did yesterday! It was a bit of a fail, as I started off with 4 colours, but I ran out of thread about half way down the length of my hair. Thus, where the wrap randomly gets wider is where I had to join another two strands to the wrap so it was long enough. I followed
this tutorial by Sara from WAISTE
and it was surprisingly easily, so I recommend everyone to try it out.
Oh yeah, I wrote a post on my second blog, PeaaBrained, about my views on the fashion blogging community so far. I thought I might as well include it in this post too, since this is where all me readers are.
"This month I went full storm ahead with persuing my ScatterrBrained blog in a more fashion related direction. Here are the things I like and dislike about the fashion blogging community

Likes


The fact that it is a community.

Some people really do leave some thoughtful comments and it makes me realise that all this time I've spent faffing round with editing/photography etc. is actually worthwhile and some people actually like it.

The fact that some ridiculously gorgeous people are following my blog!

I find it really flattering that some of my followers on my ScatterrBrained blog have far superior/better style than me, and the fact that they actually, stupidly chose to spend time reading my posts when they are so much more stylish than me is amazing.

The fact that I'm global!

I have readers from all over the weird its crazy! I'm almost as global as MJBeats, but unfortunately I don't have any readers from Chad! (CGS joke)

Dislikes


The fact that I feel like I waste my life "proving I'm not a robot".

It's actually quite ridiculous - sometimes the words they come up with are so hard to read, I can't even decipher them!"
To read the rest of this post, click here for it.
PEACE!
Rebecca x