Here is my running commentary from yesterday's BRIT awards, as it happened. These are all my initial thoughts of the show, with no later editing or tampering. I haven't written anything for the first 10 minutes of the show, since I missed it.
20:10 I love Florence so much. She's performing one of my favourite songs from her album "No lights" and I really like how they've used lighting for effect - such a feast for the eyes with all the dancers galloping around the stage. She looked absolutely amazing, with her flowing, glittering dress. My only complaint is why was her performance so short?!
20.13 Olympic coke advertisement – yay, a Katy B song, not too sure whether I actually liked the advert, but I liked her singing the famous jingle.
20.15 Oh cringe, James Corden making flirtatious jokes about Kyle Minogue
20.17 British solo act goes to Adele – pretty much a given with her massive year. Her accent is absolutely hilarious. I reckon she's going to win all the other awards that she nominated for.
20.18 Bruno Mars and Jessie J look so hot! I'm loving Jessie J's poodle hair, and Bruno's 50's quiff. He won international male solo act, which was also pretty predictable, considering the people invited to perform, usually win something anyway.
20.24 Rizzle Kicks are awesome; why is Olly Murs so rubbish?
20.24 Eurgh even more annoying people performing. Ed Sheeran's "Lego House" is just so ridiculously overplayed. I wonder if he would still be famous, if he wasn't ginger.
20.31 Is every single advert going to be exactly the same? A short coke ad, followed by the album from the artist that has just performed being advertised?
20.37 One Direction are going to get the Best British Single award. Yup, they have, obviously since they have a MAD fan girl following, so I'm so not surprised. Is it bad that I find that "What makes you Beautiful" is actually really catchy? They all look like little Ken dolls with their matching outfits and perfectly groomed hairstyles.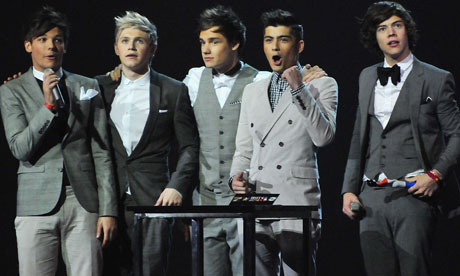 20.40 Yummy Jenson Button! And I love Rihanna's Barbados accent.

20.54 I want Pro Green to win Best British Male; unfortunately, it was the ginger again…

20.59 Does anyone actually know the name of any of the other bearded men in Coldplay, apart from Chris Martin?

21.02 More Adele, without a doubt going to go down a treat in the arena. However this year, she's got a band with her and obviously, it was a good performance, but nowhere are amazing as last year's.

21.05 Since when did Jay Z/ Kanye was a group act? But so pleased that Foo Fighters won Best International Band – all the other nominees were rubbish!

21.16 Oh go away Ed Sheeran, not you again. He has just won his second award of the night with Best British Breakthrough Act.

21.17 Bruno Mars is so smooth. Swoon. Fantastic smooth jazz version of "Just the way you are" – vocals was lush, plus what's better than a funky bass line. Definitely the best performance so far, if not the night! Standing ovation!

21.29 First Cesc Fabregas and Nicole Scherzinger, then Will.I.Am and Rob Bryden, can these pairings get any odder?
21.30 Lana Del Ray looking absolutely classic and stunning. Her face does look it's made of rubber, but she does seem like a sincere, genuine artist. I am loving her makeup, effortless hair and slinky red dress.
21.32 Next is Rihanna performing, probably the complete opposite of Lana Del Ray, performing the most boring number one single of the year –"We Found Love" Her outfit is also quite mismatched, with her Timberland boots, ripped jumper, fish nets and knickers. There is also a questionable amount of singing too, considering the only words in the song is "we found love in a hopeless place" and the rest of the song is a monotonous synth-y riff, complemented with probably the slowest and worst drop in dance music history. The entire performance was slightly disappointing and lack lustre, with her half- hearted dance routine and seemingly disappearing half way through the performance. A big thumbs down from me.
21.41 Oh, just shut up talking dude from Blur… The awkward moment when you can hear that one person woop-ing over-enthusiastically.
21.51 Crazy statistic – One Adele "21" album is sold every 6 second last year. No wonder she won the Mastercard British Album of the Year. And, uhoh, quickly flashed a middle finger as James cut her off, for Blur to close the show, just as Adele is getting emotional and patriotic. Silly ITV. That's not going to go down well for the broadcasters, but is going to be gold for the tabloids! Not a good way to end the show as the audience boos.
21.53 I think that Britpop bands like Blur need to realise that they've gone past their hay-day and stop playing songs that they would sing a few decades ago. I feel bad for their children; imagine having your dad prancing around on national television, trying to relive the old days. Time to put away the Doc Martens and move on! I can't deny that I am enjoying "Parklife" though.
So that's about it - all in all, a satisfactory show. It definitely started off well, but quickly went downhill from there on. I'm disappointed that they didn't have any duets, since last year's "You got the dirtee love" with Florence and Dizzee Rascal was such a success. The performances – minus Bruno Mars and Florence – were all below par from last year. I am happy for Adele, but apart from her, nothing that prominent happened in the British music scene last year, which was reflected in the show.
Ciao for now
Rebecca x
P.S. I am missing having the time to post every day... :(