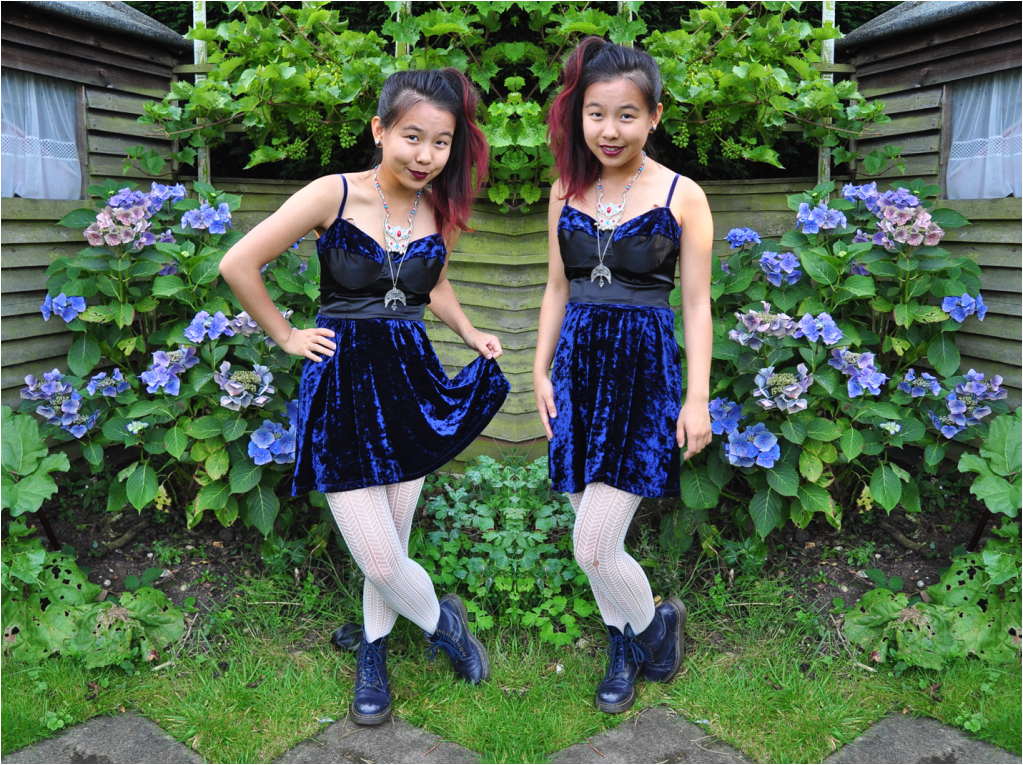 Necklaces - markets around the world, blue velvet dress - charity shop, bag - China, tights - no idea, boots - Doc Martens, denim vest - mum's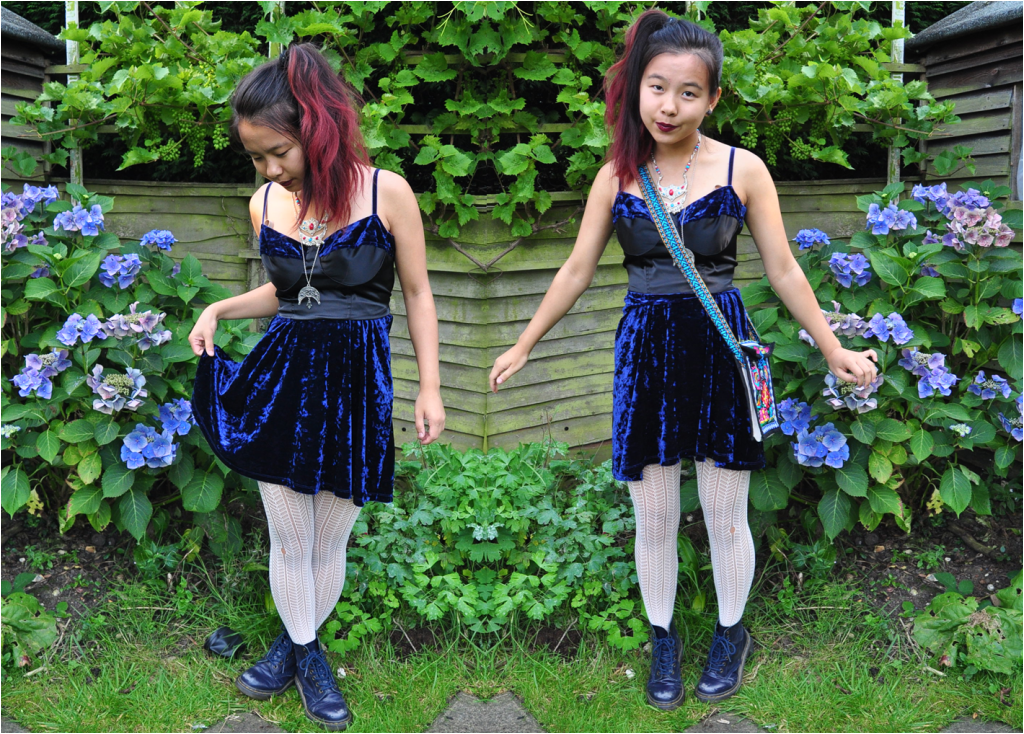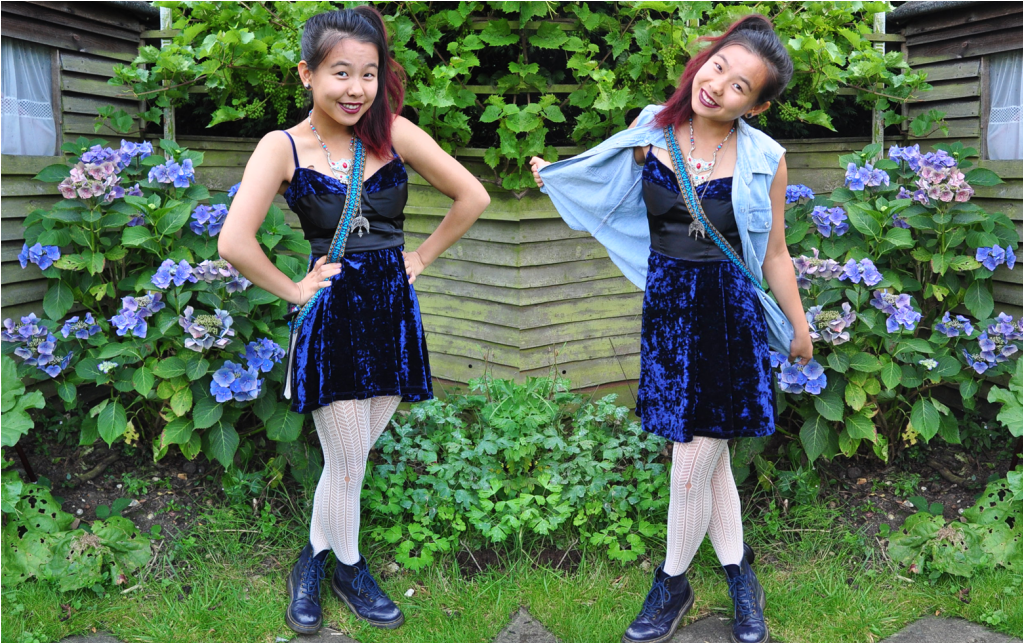 Sometimes when I go into charity shops, I come out empty handed, but then other times I feel like the thrift gods have blessed me with good luck and put something in the rails which could pretty much could have been made for me. The last time the latter happened was
when I managed to get this aztec/paisley/awesome waistecoat featured in this outfit post.
This time I managed to find this AMAZING crushed blue velvet baby doll dress with a black satin panel across the bodice. I mean how much more amazing and perfect for my style could it be! The best thing was that it only cost £1 in the sale rack of a local charity shop - win! On the tag it says it's from the "Next Runway Collection" and I've never seen Next sell anything like this before, which leads me to believe that this dress is pretty vintage. I also love how the blue velvet catches the light to become an electric/cobalt blue colour and just how well they match my blue Pascal Doc Martens. Ah I just love this dress so much! My only problem is that it is size 10 when I'm really a size 6-8, so I just have to tie the bow at the back of the dress really tight and I've made the straps as short as possible, to make sure the dress does not fall down.
Please excuse the fact that I stupidly decided to wear holey white tights with this outfit. To begin with, I thought I would be able to channel an ice-skater sort of look with the velvet, but it just ended up looking sort of incoherent with the rest of the outfit, but whatever!
I realise I have been the world's most terrible blogger, and I hate it when bloggers are constantly apologising on their blog, so that must mean I am also the world's biggest hypocrite. Since you guys probably realise that I hardly ever post regularly now, I am going to point you guys into the direction of two other bloggers who are probably my favourite bloggers of right now. They are just both so cool and I wish we could be friends in real life. :D
Angelina from "Angels and Lace"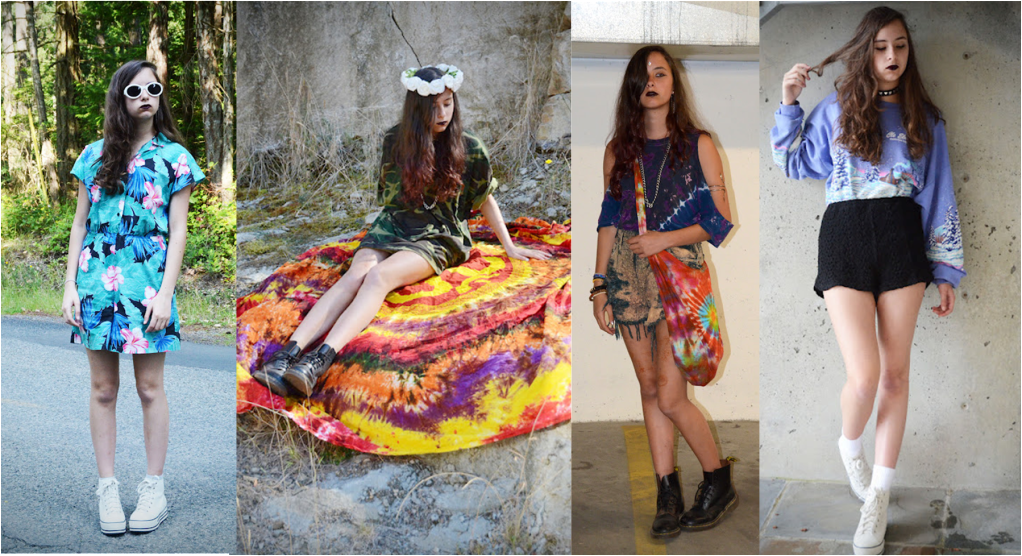 Ah, so much tie dye, so many crazy prints, so much awesome. I just love this girls style and I personally think her little paragraphs underneath her outfits and the comments she leaves are so hilarious. She is just generally such a babe and so much cooler than I am. Everyone go follower her today as it's her 1 year blog anniversary and it would be awesome if she hit 100 followers today too!
Chrissy from "Chrissy Chrispy"
This girl has wicked style and absolutely awesome taste in shoes. I love all the print prints she incorporates into her clothes and I think it's so cool that she makes some of her own clothes as well! She also encouraged me to wear my hair in pigtails, despite the social conventions the tell me otherwise. Ah I just love her blog so much.
So everyone, go over, follow and fall in love their blogs as both girls deserved heaps more followers!
Ciao dahlings (and check out this awesome beyond belief signature courtesy of YCT (THANK YOU SO MUCH!))