Tie-dye shirt - DIY, necklace - market, shorts - Topshop via charity shop, belt - charity shop, black sheer shirt - punkyfish, Chelsea boots - Doc Marten's via T.K.Maxx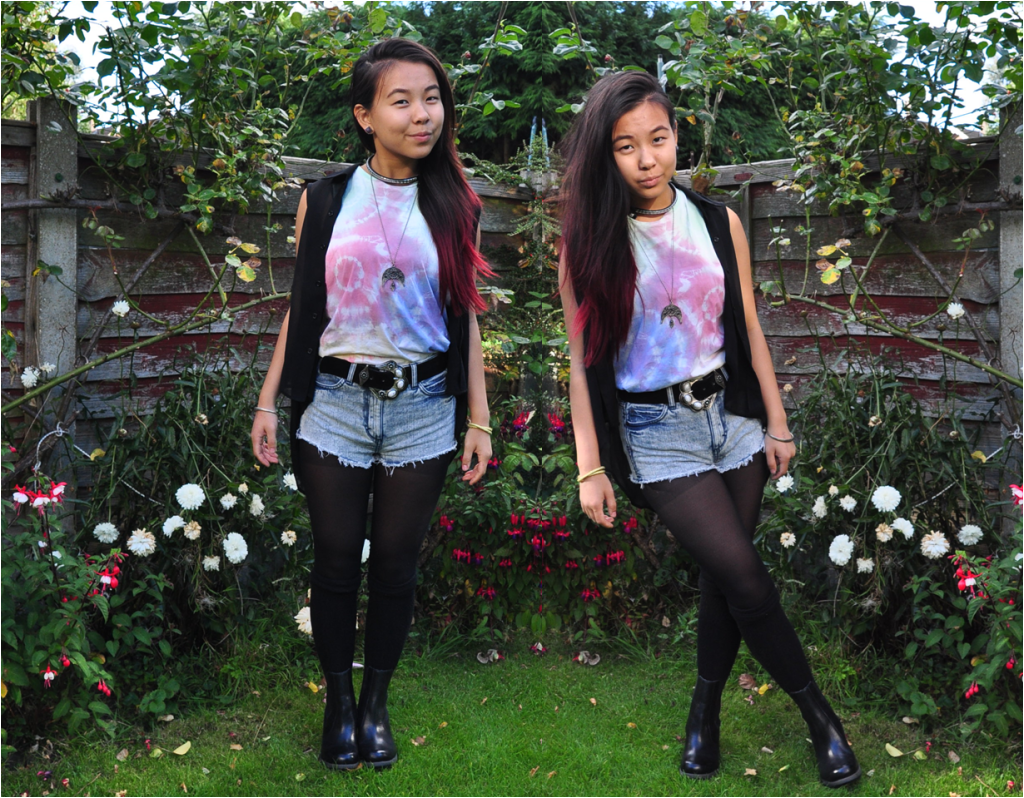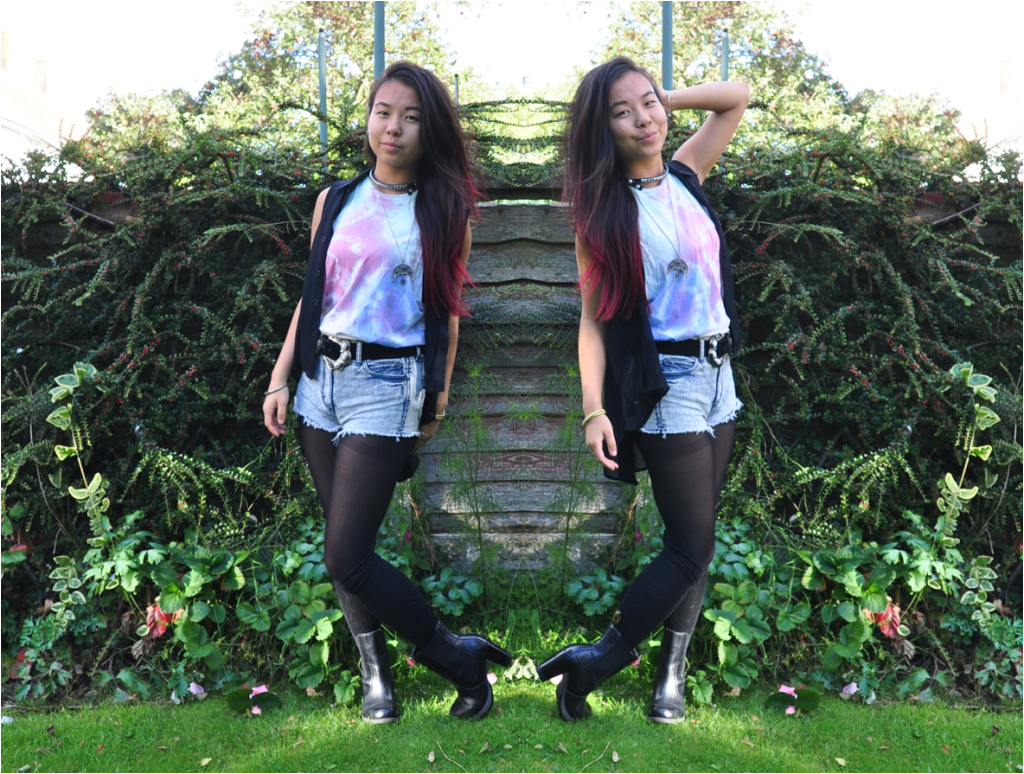 This look is called Bargain Hunter, due to the fact that most of the items I am wearring in this outfit are absolute bargains. Take my belt for example, it only cost 25p from a charity shop at the bottom of a bucket full of belts, yet it is so awesome looking and genuine leather. On the back, there is MOD DEP engraved on it, meaning modele depositato, which means registered design (i.e. copyright). There was also a brand on the back which I googled and they were selling belts for around £40, so I definitely bagged myself a bargain.
Moreover, I also found these Topshop shorts as well as the American flag shorts from Topshop in a charity shop for only £1.25 and £1.50 respectively as well! They just caught the corner of my eye as I was walking down the street and it was like the thrift gods were rewarding me with shorts that were exactly in my size, brand new and so ridiculously cheap. However, I had no money on me, so I literally sprinted to the cash machine to take out some money to buy them. I am literally so happy with them and I think I might customise this pair with some tie-dye or patches.
Third item I'd like to mention are my amazing Doc Marten Darla boots in black. They were only £35 from £130 and I found them in T.K.Maxx. They are deceivingly high, which is a bummer as I don't usually were heels, so it's going to take a little practice getting use to them. However, there is actually a slight platform, and since the shoes are very well made, they are really quite comfortable. In fact, I have actually aquired another pair of Doc Martens from T.K.Maxx as well in the last few weeks (brown leather with wool lining!), which I am unfortunately going to give to my sister who lives in Scotland, so she could do with some warm shoes.
So basically, I advice everyone to flock to T.K.Maxx. asap to snap up all the amazing deals on Doc Martens as they are by far my favourite brand of shoe. I've had my blue Pascal boots for half a year now, and I reckon I've worn them 30% of the time and pretty much 100% of my outfit posts feature them, as they are just so comfortable, high quality and look better and better as they age. Most shoes I buy wear out within a few months of continuous use, but my docs are still going strong, so they are definitely worth it, even at full price. I cannot see myself going back to normal high-street shoes now having experiencing the awesomeness of docs. Shoes are definitely the item I spend most money on, because cheaper shoes wear out so quickly due to abrasion and spending that extra money really does make a huge difference.
Anyway, that is it for today. I apologise if the ramble above makes no sense as I'm so tired from my first week of school. Hope I can put up more posts than I am now, as need to practice my literary skills before they disintegrate completely, due to lack of essay subjects taken at A level. Currently, the subject where I do the most writing in is DT, so that is saying something! However, that probably isn't going to happen as I'm a terrible blogger.
Farewell,
P.S. Danke to all the lovely girlies who said my hair looked nice in my previous post, I actually did do something different to it! I had dyed the ends slightly more red again! You guys are so observant, I wouldn't have noticed!