Tweed blazer - St Michael's @ M&S, top - Topshop via charity shop, trousers - mum's, shoes - M&S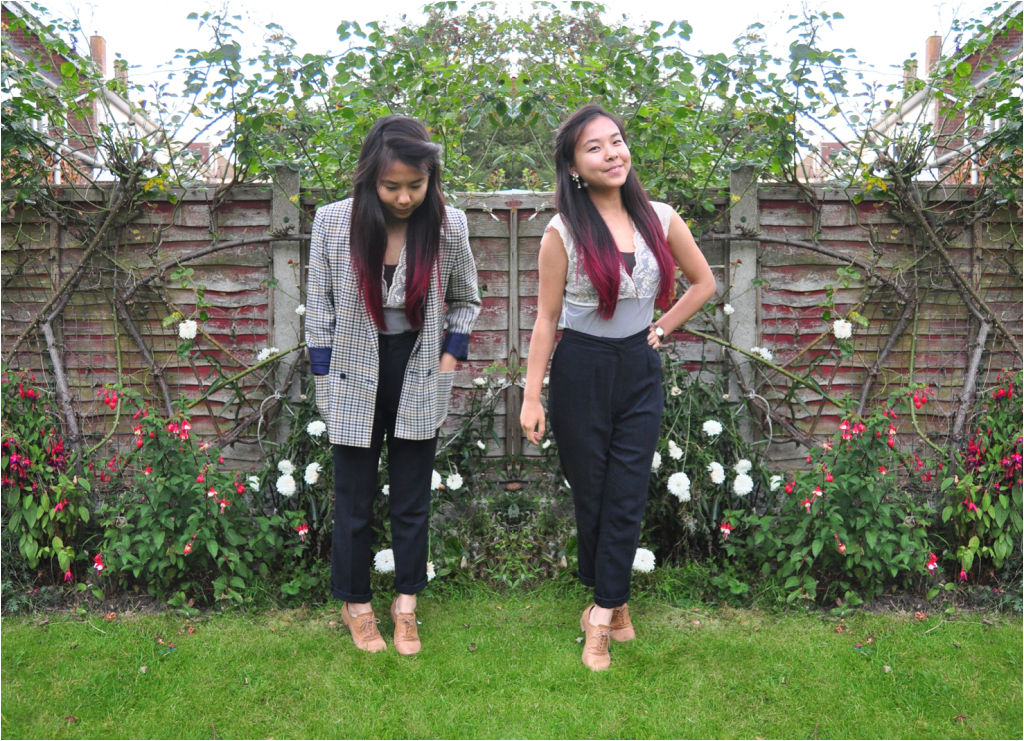 I realise that this outfit is not exactly that inspiring and it's sort of similar to
this outfit
. It is really quite a boring outfit, but since it was our first day of school, I thought I might as well be a bit more conservative with my appearance as I don't want to get off on the wrong foot at Sixth Form. I thought I might as well post it as I do want to catch up with you guys and just have a little chat. There are a few things I want to tell you guys.
Vintage sunglasses:
They are actually worth £120!
If you remember this post from ages ago (if you do, you are a true ScatterrBrained fan!), I featured some vintage sunglasses. Being the boring middle-aged people my parents are, they decided to go on "Flog It!" and find out how much they are worth, along with some other antiques that we have. If you are not from the UK, "Flog It!" is a very English, day-time television program that has been broadcasting since the beginning of time, which is all about buying and reselling antiques in an auction to see how much money can be made. Turns out these turtle shell glasses are actually worth £120-£150, but my mum reckons they are worth more! We didn't sell they as they are a family heirloom and have a far greater sentimental value, but it was very interesting. Next time I shall definitely be more careful with these very fragile sunglasses as they are actually worth something.
That is it for today - my first day of school has made me feel so tired. I'm doing 5 subjects (maths, further maths, physics, chemistry and product design - resistant materials!). I was going to drop res mat, but today just reminded me how much I enjoy it! However, all these subjects have worn me out, yet somehow today, I feel more productive so I just had to put a blog post up, hence the boring outfit, but I hope it was alright for you guys.