Clothes - all hand-me-downs, bowler hat - River Island, pewter shoes - Dr Martens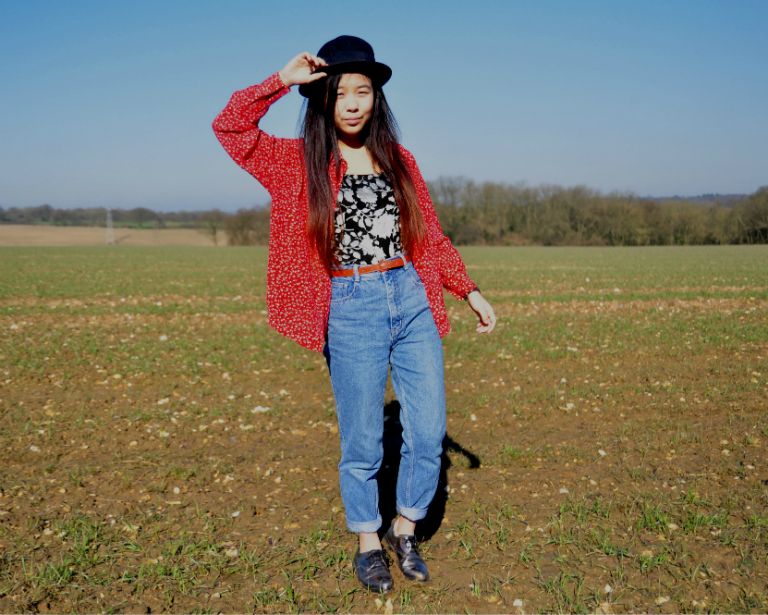 Today I made the rookie mistake of taking my blog pictures out during the midday sun, hence the horrendous over-exposure on these photographs. As you can see, it was actually a cloudless day in the UK - what is this malarkey?
I also ventured out of my humble abode to walk to a local farmer's field to take these pictures. However, I did not anticipate the paths and fields to be so muddy - I was literally sinking into the mud whilst awkwardly posing for these pictures. I was planning on walking to this lovely spot where there are also loads of Shetland ponies to take these pictures, but after walking 50m in this field, I could not take it any longer as my ankles were getting so muddy, so I just took them in the spot where I was at.
Also, my beautiful new pewter coloured Doc Marten's shoes were starting to give me blisters which absolutely sucked. I bought them from the Office sale for £40 last month. I am slightly disappointed in them however, as although I ordered a size 3, they are pretty much a size too big for my feet and consequently, I feel a bit like I'm wearing clown shoes as they are even longer due to the pointed shape. I don't care too much though, as they add such a statement to any outfit.
I have also worn quite a few of the items in this post in previous OOTDs from a while back, so if you're new around here, check these out:
Velvet top:
"If I were a ballerina"
Floral shirt:
"Silky silky"
As for how I've been recently, I am now on half term which could potentially mean more blogging?! So far, I have just enjoyed chilling, watching my favourite American TV shows (Revenge and Scandal - they are both very similar shows but I find them both so thrilling and addictive), listening to a whole lot of Shugo Tokumaru's music as well as rekindling my love for drawing. I have not really done any "proper" drawing for a few years now. I think this is mainly due to the fact that my sister has an undeniable born gift when it comes to drawing and since she is 7 years older than me as well, she has always been substantially better than me at it. I can't think of any other way of putting this in a manner that doesn't seem egotistical, but I don't like doing things that I'm not good at. I'm not saying that I am good at everything I do, it's just due to a potent combination of perfectionism and lack perseverance from myself. However, I thought it was high time to get over this and just do it as I enjoy it.
I think I am done rambling for today. I need to practice making my writing style more succinct and to the point as at the moment it is a superfluous mess, especially since I'm suppose to be writing my first draft of my personal statement over half term - I'm going to need some help from some form of celestial being to make that happen!
Ciao dahlings,
P.S. Post title is referring to a quote by Oscar Wilde.