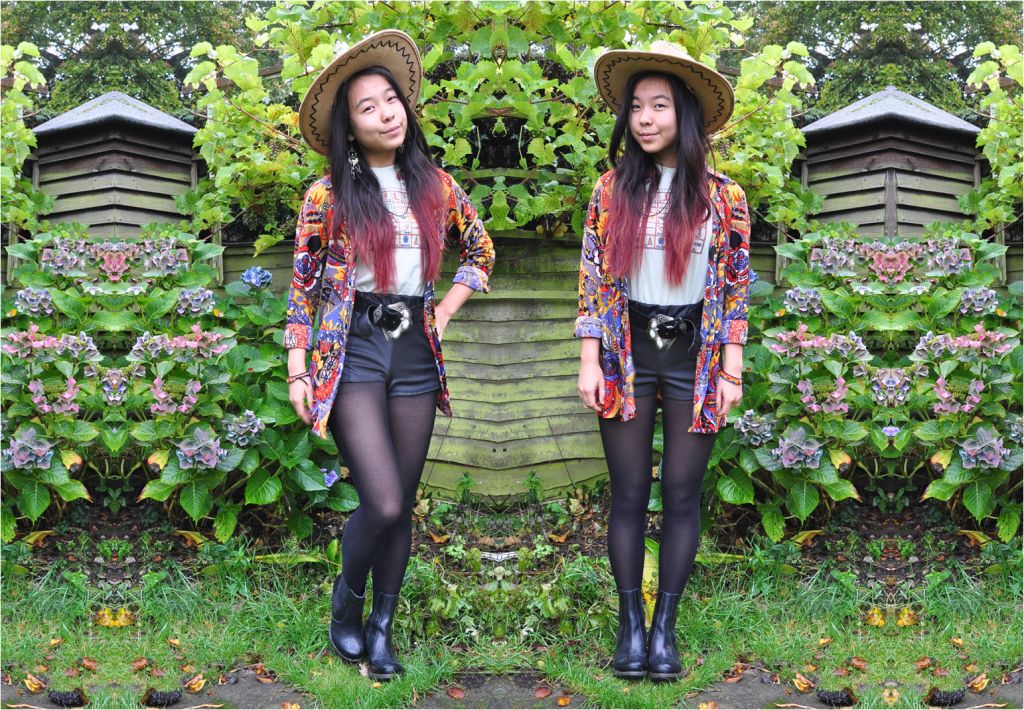 Vintage shirt - Brick Lane, top and belt - Charity shop, leather-look shorts - local shop, cowboy hat - China, boots - Doc Martens
This outfit is 100% inspired by the western/vintage/witchy/gypsy vibes I get from Madeline's blog
"Jean Greige
". It is also slightly inspired by the girls from Haim with the cowboy hat and having my hair down and slightly unruly.
Also on the topic of music, I've not had time to write an entire post dedicated on new music, but of recent, I have been loving Django Django's self titled album, Sundark and Riverlight by Patrick Wolf, Willy Moon, Stealing Sheep and AlunaGeorge in general, as well as eagerly awaiting the Villager's new album - I think it's going to be a good one!
Back to the outfit, the cowboy hat was from my holiday last year in China and it is so awesome - I should start wearing it out. I literally love this shirt so much
(first featured in this post way back in June
), but the one problem is that it is really quite fragile since it is very old, so I don't want to wear it too much, but I felt it was due time for it to have another feature on my blog.
In my life, school is really starting to get on top of me as expected, hence the sporadic posts. However, it is half term soon which I am looking forward to so much. I am going to go to Rhiannon or Fashionrocksmysocks' meet up on Saturday 3rd November in London, so it would be great if any of you guys were going, we could meet up too. :)
Anyway, must start my homework.
Follow me on GFC/
Bloglovin'
/
Twitter
P.S. The title of the post is suppose to be a pun for the fact I look like a Chinese cowgirl... I know it's terrible..